[UPDATE 9/14/18]
I've discovered a new journal app called Daylio that is unique and while missing many of the features listed in this roundup is worth consideration. You can read my review here.
[UPDATE 12/30/17]
I did a little research to see what has changed in the journal landscape to update this article. I did not find any new apps to add to the list and currently feel that the two top apps to consider should be Journey and Day One.
Journey has continued to get great updates and has expanded their offering to Windows, Mac, and iOS along with their support for Android and Chrome via an extension. Day One has expanded adding support for Android and has begun to add some limited cloud functionality which allows you to sync data and view it, albeit read only for now. I've made a few updates to the listings below as well.
In 2012 I wrote this post for The Next Web when I began looking for "smart journal" apps. I considered a smart journal app to be one that provided the following features:
Offers posting from both mobile and desktop
Syncing to cloud services
Exporting to various file formats
Calendar views
Search
Categories and/or tagging
Reminder notifications to create entries
Private with passcode by default
I reviewed my original post and took a look to see if I could find any new apps and services out there. Below is a list that contains new apps along with some from my original post that contain all of the above features and more.
If you need a reason or inspiration as to why you should keep a journal, look no further than this great post on "Why Keeping a Daily Journal Could Change Your Life".
(Mac, Windows, Android, iOS, Web and Chrome extension)
This is a very elegant app with a nice UI and design that reminds me of Day One which is an IOS only app (see below). It's chock full of many of the same features as well. The Chrome extension is used to write entries from your desktop and it syncs to Google Drive. You can also selectively publish posts to your social sites if you want.
As 2017 ends you can see that they continue to make improvements to the user interface and design and they are still adding many new features. You can login through the website and read your posts as well as add new ones. The web interface doesn't offer all the features of the dedicated desktop or mobile apps but it's nice to have that as an option and it's included for free. The pricing model for the software is a little confusing with several different pricing options for the mobile app ($4.49), desktop software ($14.99) and cloud annual subscriptions ($29). However the free offering is very generous and you can test out quite a bit of the features before deciding to upgrade.
You can read a full review of this app here.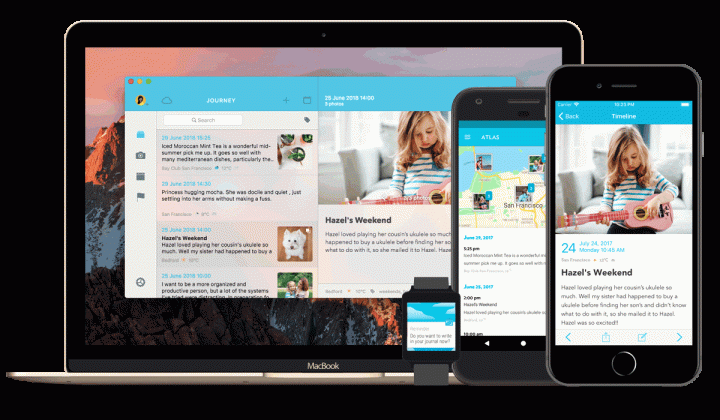 (iOS, Mac, Android, Web)
This app has been praised as the premiere journal app for IOS. It stands out with its beautiful design and strong feature set. To create entries on the desktop requires purchasing the companion Mac app. If you're an IOS / Mac user you should seriously consider Day One.
2017 has finally brought Android support and while the initial release isn't as beautiful as the iOS version it's great to see the support expanding. The new cloud support is a pretty basic and currently only offers the ability to read data that is synced. Also the cloud support requires the $25 annual subscription to access. Still this is definitely one of the top apps worth testing out to see if it meets your needs.
Here's a good full review of the app.
( Android, iOS, Web)
I like Penzu because it has a strong emphasis on gaining insight from your previous journal entries. This is done by using an algorithm that provides snippets of previous entries as reminders from old entries to help identify themes and give you inspiration for new entries. It's also got a very robust web app. Here's a detailed review.
(Android, iOS, Web)
I really liked the features and flexibility of this app when I wrote my first review. It continues to be improved and has added support for iOS in 2017. You can read another review of it I found here.
(iOS only)
I've added Momento as an honorable mention because it doesn't offer a cloud or desktop software access but is still a great stand-alone app with lots of great features. If you're ok just having your mobile device as the only method to store and retrieve your journal then this app is worth your consideration.
This may be one the oldest app on this list which I used when it initially was released. It as continued to be updated with features and the design is gorgeous. This app has integration with many third party apps and services and will automatically import their activity allowing you to automate some of your journal entries. This could be pretty convenient when you don't find time or want to duplicate the content you're already sharing publicly. It will also allow you to create private journal entries only available from the app as well.
You can start by downloading the free app and then through in-app purchases add additional features.
Originally posted on 1/19/2015